6 Healthy Breakfast Recipes for Morning Meltdown 100, 21 Day Fix (or any healthy eating plan!)
Following Beachbody's Morning Meltdown 100 meal plan? Here are 6 healthy and delicious breakfast recipes specifically designed for this program. They also work perfectly with the 21 Day Fix, Ultimate Portion Fix, 2B Mindset, or for anyone who wants a nutrient-packed, satisfying morning meal.
6 healthy breakfast recipes for morning meltdown 100
If you're considering committing to 100 intense workouts in the Morning Meltdown 100 program by Beachbody, you need to fuel yourself after exercise with a nutritious breakfast, right? These recipes are all part of the Morning Meltdown 100 meal plan.
These recipes work perfectly for any Beachbody program, like the 21 Day Fix, 80 Day Obsession, or PiYo. And, they are just delicious, satisfying healthy breakfasts for anyone who wants to live a healthy life.
I've also included the container equivalents if you're following the Ultimate Portion Fix, and Plate It! Tips for those using the 2B Mindset weight loss plan.
For the full recipe, either click on the photo or on the title!

Meal planning tips:
Plan your meals every single week. Schedule a specific time (allow 30-45 minutes) on your calendar.

For simplicity (if you don't mind repeats), choose 2 breakfasts, 2 lunches, and 2 snacks and rotate throughout the week. You can do the same for dinners as well.

Create an organized shopping list.

When planning your breakfasts for the week, be sure to look at portion sizes. For example, the Turkey and Brussels Sprouts Frittata makes 4 servings, while the Cherry Blossom Smoothie Bowls makes one. If you want to serve the smoothie bowls two days, be sure to multiply the ingredients by two.

Save your meal plans and rotate them from time to time. No use in recreating the wheel every week!

Consider meal prepping your breakfasts if you have to rush out of the house in the morning. For example, you can make a batch of Sheet Plan Sweet Potatoes with Eggs and enjoy it for breakfast a few days, and assemble smoothie bags with ingredients for the Cherry Blossom Smoothie Bowl.

Use healthy convenience foods when possible, like pre-bagged salad, pre-washed and chopped fruits and veggies, pre-cooked grains like quinoa and brown rice, etc.

For a quick meal when you don't have the time or desire to cook, consider Shakeology, a nutrient-dense meal replacement shake.
Resources:
I use either my printable Meal Planning System or the 12 Week Diet & Fitness Planner to plan my meals. Both have printable weekly meal planning pages and shopping lists already organized for you.
You can learn more about the Morning Meltdown 100 Meal Plan in this blog post: Complete Guide to the Morning Meltdown 100 Meal Plan
Morning Meltdown 100 will be available on Beachbody on Demand in October, or you can purchase early access now: Beachbody on Demand
Mmmmm smoothie bowls are even more fun than drinking a shake! (Though you can totally throw all the ingredients in a blender and make a kickass smoothie.) This icy smoothie bowl features vanilla Shakeology, super healthy dark cherries (loaded with antioxidants!), fresh strawberries, and unsweetened coconut, raw pumpkin seeds, and green tea matcha powder for nutrient-packed garnishes.
Portion Fix Containers
1 Purple
1 Red
1 Orange
½ tsp.
2B Mindset Plate It!
This recipe makes a great breakfast option.
Free printable fitness calendar
Track goals and workouts for an entire month!
Super simple and delicious breakfast sandwich features eggs, roasted peppers, and creamy mozzarella.
Container Equivalents
1 Red
2 Yellow
½ Blue
Perfect to serve at a brunch, when the whole family is together, or simply prep for for amazing breakfasts just for YOU, This recipe features yummy and filling sweet potatoes, black beans, corn, fresh cilantro and smoked paprika.
Container Equivalents
1 Red
2 Yellow
1 tsp.
2B Mindset Plate It!
A great breakfast option. Add veggies or a side salad for lunch.
All my favorites in one dish! Corn tortilla strips, scrambled eggs, onion, pepper, tomatoes and Cheddar cheese!
Portion Fix Containers
1 Red
½ Yellow
1 tsp.
2B Mindset Plate It!
Enjoy as part of breakfast with bonus veggies.
This is a delicious protein-packed breakfast! It stars eggs, roast turkey, Brussels sprouts, and fresh herbs. It serves six so you can feed to a crowd or enjoy it all week.
Portion Fix Containers
½ Green
1 Red
This throw-together recipe features Strawberry Shakeology, old-fashioned oats, and chia seeds. It's a great grab-and-go breakfast.
If you don't have Shakeology on hand, you can substitute strawberry protein powder. My favorite is Syntha-6 Strawberry Milkshake.
Portion Fix Containers
1 Red
2 Yellow
½ Orange
1 tsp.
Don't forget to PIN this post so you can find this post in the future!
Are you a busy lady (like me) who really, really wants to live a healthy life? I get it because I'm obsessed with living my best life too. Here you'll find simple ideas and strategies to plan a healthy and happy life.
I'm Jacqui, by the way, and I'm the crazy busy lady behind Plan A Healthy Life.
Plan meals in a snap with Plan To Eat…
Collect recipes from anywhere, drag-and-drop recipes for speedy meal planning, print shopping list, or access on your phone!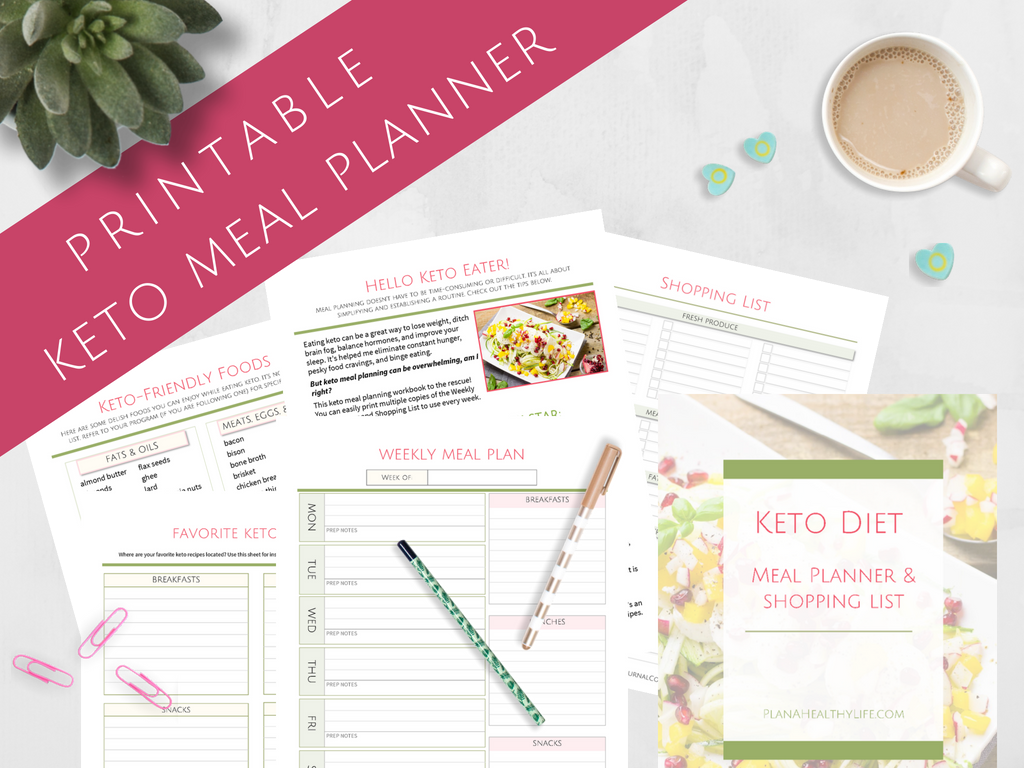 Free printable keto meal planner
Get organized while getting healthy, with printable blank meal planner, shopping list, list of keto-friendly foods, tips, and more!