12 Week Epic Diet and Fitness Planner - Goal Setting - Meal Planning - Daily Tracking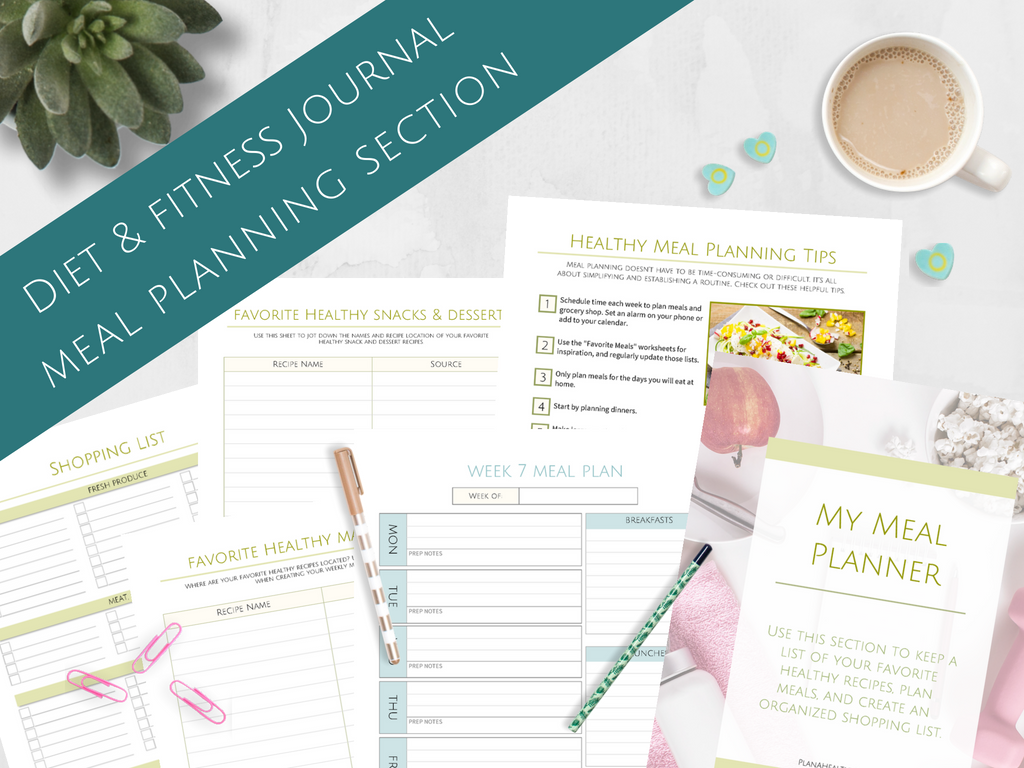 12 Week Epic Diet and Fitness Planner - Goal Setting - Meal Planning - Daily Tracking
The Epic Diet & Fitness Journal is a huge 182 page printable workbook that takes you on a personalized 12 week healthy living journey - of your own design. The printable journal will help you craft your personal fitness road map, track your progress every day, and document your success story.

**This is a printable PDF file so you will have instant access and can download and print it immediately. It is undated so you can start immediately. And, since it is a printable file, you may print it over and over, as often as you need for your personal use. You will never have to purchase another fitness planner.**

The Diet and Fitness Journal works for any diet, whether you are following a particular program, or if you are making your own rules.

The Epic Diet & Fitness Journal has four sections:

The GOALS AND GUIDELINES Section contains:
*Welcome and Printing Guide
*Getting Started Checklist
*Goal Setting Worksheets
*My Diet & Fitness Guidelines - guided worksheets to clarify what healthy living means to YOU
*Inspiration Board
*Diet & Fitness Resources page
*Notes pages

The MY PROGRESS Section contains:
*Progress Photos page
*Health Stats page for recording weight and measurement for 12 weeks
*My Health & Fitness Story to journal your personal healthy living experience
*Notes pages for journaling

The MY DAILY JOURNAL Section contains:
*Weekly divider pages with inspirational quotes
*Weekly Checklists for 12 weeks
*Daily Journal pages for all 12 weeks to record water intake, meals, intermittent fasting, macros, exercise, a reflection on your day, and more
*Weekly Review pages for 12 weeks
*The Meal Planning section contains:
*Meal Planning Tips
*Worksheets to list your Favorite Healthy Main Dishes, Side Dishes, Desserts and Snacks, and Recipes to Try
*Weekly Meal Planner for 12 weeks
*Shopping Lists for 12 weeks

There is nothing as comprehensive as the Epic Diet and Fitness Journal on the market. Be the first to get your hands on this fun and effective accountability tool!
IMPORTANT DETAILS:

* This is a HIGH QUALITY 8.5x11 LETTER SIZE PDF FILE available for INSTANT DOWNLOAD. Once your payment has cleared, your file(s) will be available for download.

* Because this is a digital product, NO PHYSICAL PRODUCT will be sent to your home.

* 8.5x11 size means lots of space to write.

* The PDF files are NOT editable. The journal is formatted to be printed on standard 8.5" x 11" printer paper.

* The Diet and Fitness Journal is 182 pages, formatted for easy, front-to-back printing.

* Simply print, punch holes, and add to a 3 ring or disc bound binder.

* The colors may vary slightly from what you see on the screen, due to different screen and printer settings.

* This printable is for your personal use only and cannot be redistributed, edited or reproduced. PlanAHealthyLife retains all rights.

Due to the nature of the products (digital file), items are not returnable. If there is a mistake or something is not right, please contact me and I will do everything I can to correct the problem.