Meal Planning Bundle - Complete Meal Planning System with Instructions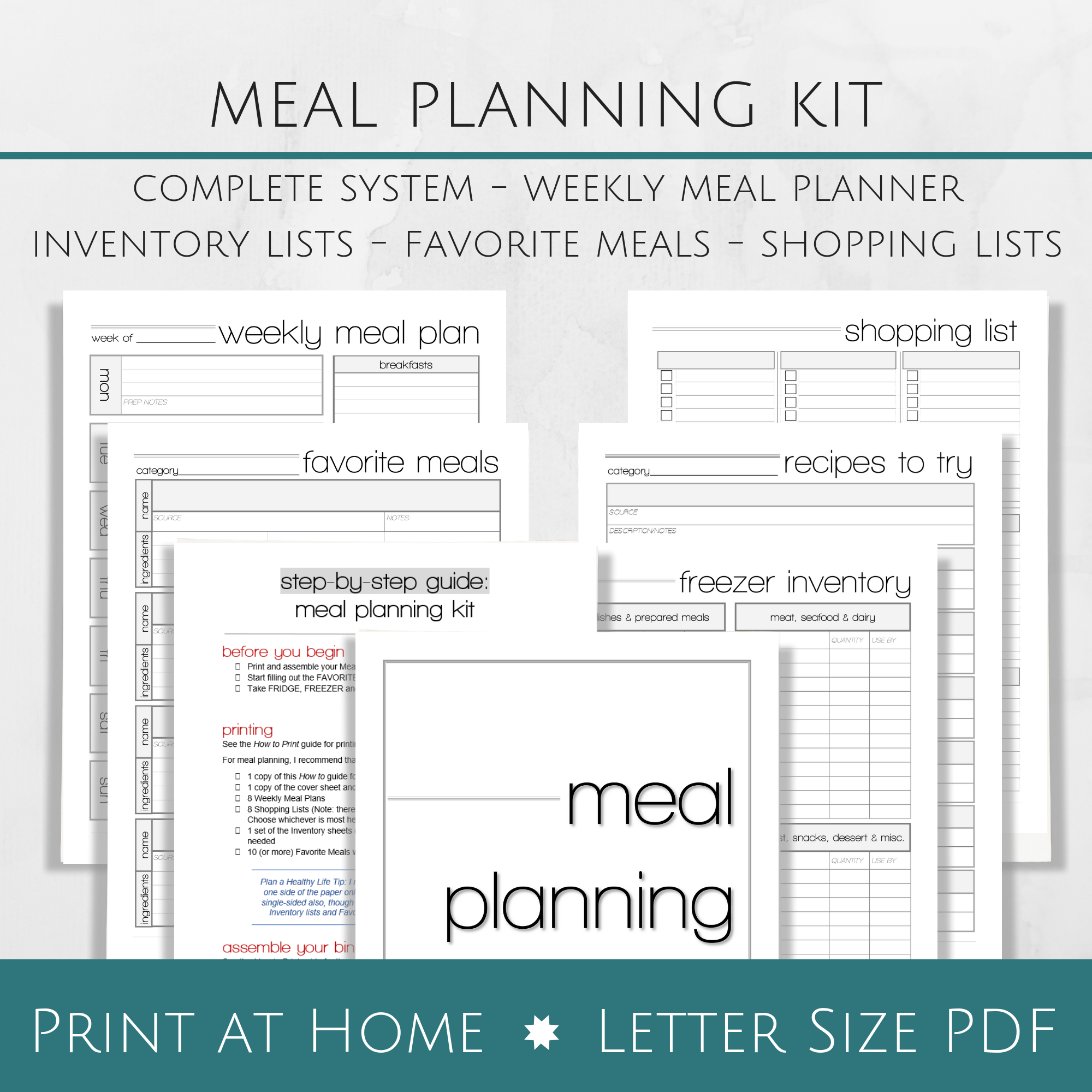 Meal Planning Bundle - Complete Meal Planning System with Instructions
Do you feel frustrated when it comes to planning meals for yourself or your family? You want to get it together, but just don't know how?

This is a PRINTABLE complete meal planning kit with step-by-step instructions to help you save time, money and effort in the kitchen. Follow the steps to become a meal planning ninja.

The letter-sized PDF printables are designed to be simple and super functional. The digital files also includes a Step-by-Step Guide to Meal Planning which will take the guesswork and stress out of meal planning.

The STEP-BY-STEP GUIDE TO MEAL PLANNING will teach you how to:

* create a system to keep you organized in the kitchen
* brainstorm meal ideas
* quickly and easily create meal plans each week
* create a shopping list in a snap
* record favorite meals, recipes and snack combinations
* keep inventories for the fridge, pantry and freezer.

I also share my busy mom best tips for simple meal planning to save you time and money.

You will receive three digital PDF files that include:

(1) MEAL PLANNING PRINTABLES

- COVER SHEET AND DIVIDERS: Create your own binder to stay organized in the kitchen.

- WEEKLY MEAL PLANNER: Super detailed worksheet with space for all meals, snacks and prep notes.

- CATEGORIZED SHOPPING LIST: Simply and easily create an organized shopping list.

- FAVORITE MEALS WORKSHEET: This worksheet which will save you tons of time when planning your meals each week and help you create a shopping list in a snap.
- RECIPES TO TRY: Jot down the names and locations of recipes you'd like to make in the future, all in one spot.

- FRIDGE INVENTORY LIST: No more produce wilting in the fridge. Your updated list will save you money.

- PANTRY INVENTORY LIST: Do you have flour? Rice? Peanut butter? Keep track with this categorized pantry inventory.

- FREEZER INVENTORY LIST: You'll never forget the pack of chicken or frozen lasagna hidden in the back freezer again!


(2) STEP-BY-STEP GUIDE TO MEAL PLANNING: Complete step-by-step instructions to set up a meal planning binder and begin the simple process to make meal planning quick and easy.

(3) HOW TO PRINT GUIDE