6 Healthy Lunch Recipes for Morning Meltdown 100, 21 Day Fix (or any healthy eating plan!)
Here are 6 healthy and delicious lunch recipes specifically designed for Beachbody's Morning Meltdown 100 meal plan. They also work perfectly with the 21 Day Fix, Ultimate Portion Fix, 2B Mindset, or for anyone who wants a nutrient-packed, satisfying lunch. I'll share the recipes plus meal planning tips!
6 healthy lunch recipes for the Morning Meltdown 100 meal plan.
Lunch will be healthy AND delicious with these nutritious recipes straight from the Morning Meltdown 100 meal plan.
You don't have to be rockin' out with Jericho and the Meltdown workouts to enjoy these delish afternoon meals. These recipes work perfectly for any Beachbody program, like the 21 Day Fix, 80 Day Obsession, or PiYo. And, they are just delicious, satisfying healthy breakfasts for anyone who wants to live a healthy life.
I've also included the container equivalents if you're following the Ultimate Portion Fix, and Plate It! Tips for those using the 2B Mindset weight loss plan.
For the full recipe, either click on the photo or on the title!

Meal planning tips:
Plan your meals every single week. Schedule a specific time (allow 30-45 minutes) on your calendar.

For simplicity (if you don't mind repeats), choose 2 breakfasts, 2 lunches, and 2 snacks and rotate throughout the week. You can do the same for dinners as well.

Create an organized shopping list.

When planning your meals for the week, be sure to look at portion sizes. Some recipes make 4 servings, and some two.

Save your meal plans and rotate them from time to time. No use in recreating the wheel every week!

Meal prep your lunches the night before. Pop into individual serving containers and bring to work for a quick and healthy meal.

Use healthy convenience foods when possible, like pre-bagged salad, pre-washed and chopped fruits and veggies, pre-cooked grains like quinoa and brown rice, etc.

For a quick meal when you don't have the time or desire to cook, consider Shakeology, a nutrient-dense meal replacement shake.
Resources:
Morning Meltdown 100 will be available on Beachbody on Demand in October, or you can purchase early access now: Beachbody on Demand
This is a refreshing combination of chicken, fresh fruit, with a spicy cumin, chili powder, and serrano chili dressing. Yum!
Portion Fix Containers
1 Green
½ Purple
1 Red
1 Blue
1½ tsp.
2B Mindset Plate It!
A great lunch option.
Free printable fitness calendar
Track goals and workouts for an entire month!
What a nutrient packed lunch! Wrap lots of veggies, avocado, hummus, and quinoa in a collard green. Delicious at home and easy to pack for a lunch-on-the-go.
Container Equivalents
2½ Green
½ Yellow
½ Blue
2B Mindset Plate It!
Makes a great veggie and FFC as part of lunch.
This post contains affiliate links. For more information, see my disclosures here.
Talk about a bowl full of happiness! This recipe uses chicken, black beans, avocado, and fresh salsa to make a delicious, filling meal.
Container Equivalents
1 Green
½ Red
1½ Yellow
1 Blue
2B Mindset Plate It!
A great lunch option. Replace brown rice and beans with veggies for dinner.
Beef sirloin on a whole wheat bun topped with delicious sauteed veggies and Provolone cheese. Dieting never tasted so good!
Portion Fix Containers
1 Green
½ Red
2 Yellow
½ Blue
½ tsp.
2B Mindset Plate It!
Serve with a side salad or veggies at lunch.
This is a delicious and filling bowl chock full of lentils (use pre-cooked to save time!), lots of veggies, and cheese. Or use dairy-free cheese if you want to keep it vegan.
Portion Fix Containers
2 Green
1 Yellow
½ Blue
2B Mindset Plate It!
Add a bit more protein for a great dinner option for the vegan plan. For non-vegans, add a protein for lunch.
Make enough salads for a few days and store in glass mason jars, or serve the family for a satisfying lunch salad.
Portion Fix Containers
2 Green
1 Red
1 Yellow
½ Blue
1 tsp.
I hope you enjoyed this sneak peek of 6 healthy lunch recipes from the Morning Meltdown 100 program! Learn more about the Morning Meltdown and its nutrition plan here:
Don't forget to PIN this post so you can find this post in the future!
Are you a busy lady (like me) who really, really wants to live a healthy life? I get it because I'm obsessed with living my best life too. Here you'll find simple ideas and strategies to plan a healthy and happy life.
I'm Jacqui, by the way, and I'm the crazy busy lady behind Plan A Healthy Life.
Plan meals in a snap with Plan To Eat…
Collect recipes from anywhere, drag-and-drop recipes for speedy meal planning, print shopping list, or access on your phone!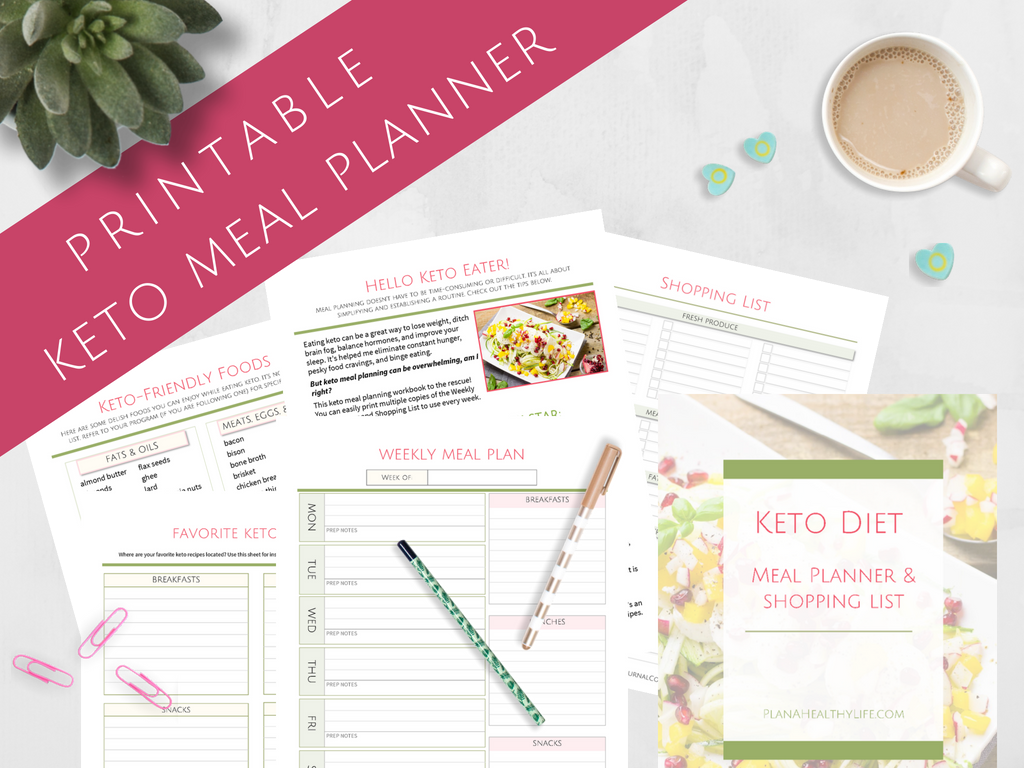 Free printable keto meal planner
Get organized while getting healthy, with printable blank meal planner, shopping list, list of keto-friendly foods, tips, and more!