How to Plan a Memorable Mother's Day in 6 Simple Steps (and free printable checklist)
Want to make your Mother's Day stress-free as possible? Follow these 6 simple steps to planning your special day. Bonus points for bad ass moms who tell their partners to handle it!
Who will you celebrate?

Brainstorm possible celebration ideas.

Make your list manageable and meaningful.

Create a detailed to do list.

Schedule those tasks on your calendar.

Do the things…. then celebrate!
Follow the simple steps below and be sure to download your free printable Mother's Day Planning Checklist!
How to plan a memorable Mother's Day in 6 simple steps.
Celebrating your mom, grandma, or yourself on Mother's Day is a beautiful tradition. But, as a busy mom, it can be stressful when we're trying to buy gifts and plan meals for others, while at the same time enjoying our special day!
Download the free printable checklist (or grab a notebook and pen) and start planning!
Step 1: Who are you celebrating?
Write a list of who you will be celebrating for Mother's Day. Maybe it's just your mom. Or yourself!
But sometimes it's nice to acknowledge other special mothers in our lives, like best friends, sisters, grandmothers, or daughters.
Who will you celebrate this year?
Step 2: Brainstorm ways to celebrate.
This is the fun step! Make a list of all the possible ways you could celebrate the special lady or ladies listed in Step 1. Write EVERYTHING down. It doesn't mean you will do all these things, but making a big list gets your brain thinking in creative ways.
Mother's Day celebration ideas:
send cards

send flowers

go to brunch

have a picnic

buy a gift

help kids make a gift

serve breakfast in bed

host a home Happy Hour

go shopping or antiquing

visit a museum

have a craft day

visit a farmer's market

walk (or run!) a Mother's Day 5k together

write a heartfelt note

make a special video

post a photo and funny message to her Facebook page

call her (or video chat) if you live far away
These are just a few suggestions. Have fun making your own list!
Step 3: Make your list manageable and meaningful.
OK, you have a fabulous list of amazing ways to celebrate your Mom. Now it's time to be realistic and cross off most of them.
Look at your list and ask "what can I do to make this a memorable and meaningful Mother's Day" while still keeping your sanity? Cross off the things you choose not to do, and circle your favorite ways to celebrate.
Step 4: Create a detailed to do list.
Let's say you want to celebrate your Mom by hosting a backyard picnic and making a simple photo book starring your kiddos. It sounds like two tasks, right?
But it's not.
Make a list of ALL the steps needed to organize your picnic and create the photo book. (Or obviously the celebration ideas you choose.)
For this example, the steps might be:
decide on a time for the picnic

create a simple menu

create a shopping list

go to the grocery store

make any food items (better yet, purchase ready-to-eat or put the men in your life in charge of the grill)

what time is the picnic?

schedule time to spruce up the patio, or clean off the deck furniture

spend 30 minutes finding your favorite photos

decide on a company to print your book (CVS, Walgreen's, Shutterfly, Snapfish, etc.)

schedule an hour to upload pics and order your book

wrap the book when it arrives
Sometimes it is overwhelming seeing all the little steps to "have a picnic" but here's the thing… better to get those tasks out of your brain and onto paper. You will have to do them regardless of whether they are written down or not. Might as well be honest about what it takes to get the job done!
Step 5: Schedule the tasks on your calendar.
This might sound like overkill, but I promise you it is not.
"Doing the things" takes time. A strategy that is really effective is to block the time on your calendar WHEN you will do each of those tasks. Just like with Step 4, creating the detailed to do list, you WILL have to make time to do those things. Better to schedule the time INTENTIONALLY so you're not running around frazzled at the last minute. Or maybe that's just me, lol.
I schedule all my tasks on the Weekly Page of my printable Life Planner. You can take a peek at it here… 2019 Printable Life Planner
Step 6: Do the things.
You created a manageable list of ways to celebrate the special mom or moms in your life. You broke that down into a detailed to do list, and added those tasks to your calendar.
Now just DO the things.
Easy peasy.
There you have it, 6 simple steps to planning a memorable Mother's Day. Don't forget to download your free printable Mother's Day Planning Checklist.
Happy Mother's Day!
Don't forget to PIN this post so you can find this post in the future!
Are you a busy lady (like me) who really, really wants to live a healthy life? I get it because I'm obsessed with living my best life too. Here you'll find simple ideas and strategies to plan a healthy and happy life.
I'm Jacqui, by the way, and I'm the crazy busy lady behind Plan A Healthy Life.
Plan meals in a snap with Plan To Eat…
Collect recipes from anywhere, drag-and-drop recipes for speedy meal planning, print shopping list, or access on your phone!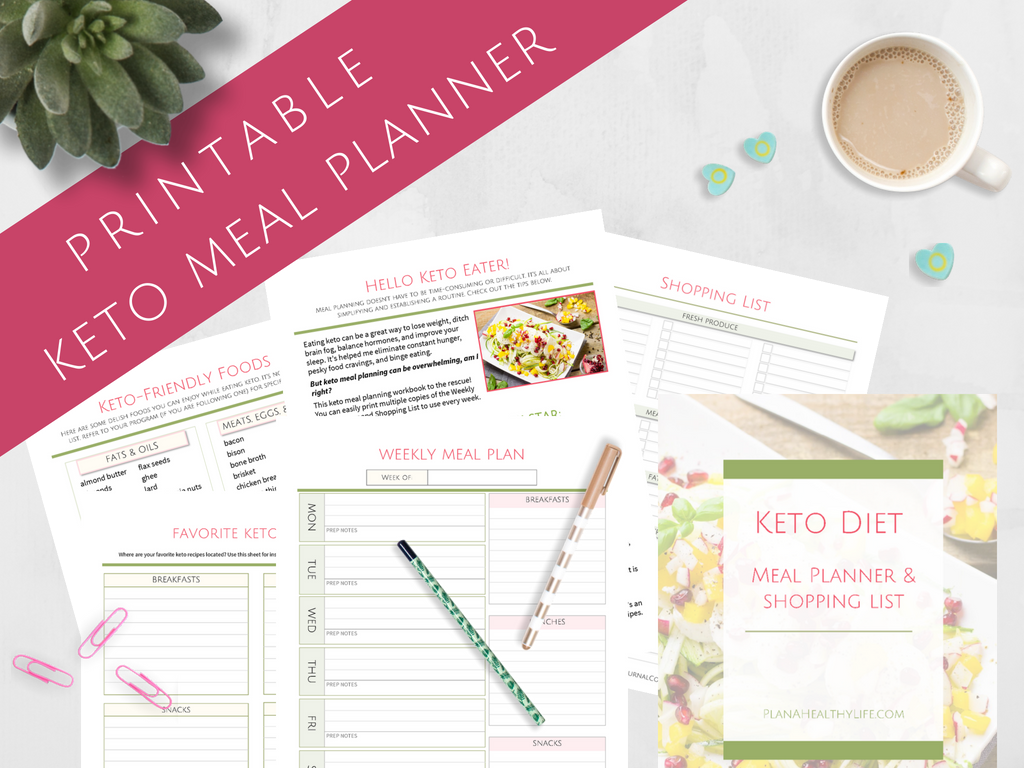 Free printable keto meal planner
Get organized while getting healthy, with printable blank meal planner, shopping list, list of keto-friendly foods, tips, and more!