Should I throw away my fat clothes? Pros, Cons, and a Practical Compromise
Losing weight is a wonderful thing! It's especially exciting when your clothes start to get baggy and you're ready for new clothes for your smaller figure What do you do with the old, "fat" clothes? Do you embrace your "new you", confident you'll never regain the weight, and donate, sell or give away your larger clothes? Or do you hang on to the fat clothes just in case? This blog post has the pros and cons of keeping fat clothes, pros and cons of getting rid of fat clothes, and a practical compromise for those of us who are a tiny bit anxious about big changes.
Should I throw away my fat clothes?
Have you ever lost weight and wondered what to do with your fat clothes? OF COURSE you'll never gain the weight again and you should probably box them all up and bring to Goodwill, right?
There's probably a tiny bit of fear at that thought though. What if you gain the weight back??
When I've lost weight in the past I had this same battle of the mind. As soon as I moved smaller clothing in my closet I started to get a little anxious.
Do I keep my fat clothes or give them away??
I was really surprised at how hard this question was and how much anxiety it caused.
I've done my Marie Kondo-ing and decluttered my bedroom and closet. So I know 100% that I only want clothes that fit me and I love in my closet.
The fat clothes had to go.
But would I store them somewhere else? You know, just in case??
Newly confident, thinner me didn't like that idea. I was in a good place, feeling good about my food and my workouts, and that I've made my healthy habits a lifestyle.
But chronic dieter me has a whole lot of fear.
I'll walk you through the pros and cons of keeping versus getting rid of fat clothes and give you a practical compromise if you're conflicted like I was.

In this post I'll share:
the pros and cons of keeping your fat clothes
the pros and cons of getting rid of your fat clothes

a practical compromise for the yo-yo dieter

tips for keeping weight gain in check

different ways to "get rid" of your fat clothes
And before we begin, I use the term "fat clothes" with no disrespect. I have been a yo-yo dieter and am no stranger to having a closet full of small, medium and large-sized clothing. It's just what I call them and is not meant as a put down in any way.
Pros and cons of KEEPING your fat clothes.
Congrats! You've lost some weight and dropped a size or more. You bought some new duds and now you need to deal with clothing that is now too large. What to do?
One option is to keep your fat clothes
There are 2 valid reasons for holding on to some fat clothes.
A trophy pair of jeans.
You know those before-and-after pics we all love? Of a smiling thin lady holding up her fat jeans?
It's like a trophy, that old, large pair of pants.
If you want to keep a pair of jeans, or a skirt, dress or other article of fat clothing as a reminder of from where you came, and that piece of clothing gives you positive vibes, it is a very valid reason to keep.
Keep high quality, fashionable clothing you will have tailored to fit.
If you have some clothing you totally love, that is still in style, and is high quality, you may want to get it tailored to fit the new you.
Just be sure you have a plan for getting the clothes tailored and act on that plan, rather than letting them sit in your closet indefinitely.
But what if I regain weight?
This is the ONLY other reason I could think of to save fat clothes, and it comes from a place of fear.
You hang on to big clothes because you're afraid you'll need them in the future.
This might seem like a smart strategy if you have lost and regained weight in the past, right?
Here's the thing… your past doesn't determine your future. If it did, why ever try to lose weight if you've failed on a diet in the past? If you believe you will gain the weight back, you will.
Your beliefs are what create your reality, not your past.
(If you want to learn more about how our beliefs shape your reality and our future, listen to this podcast at The Life Coach School: Episode #231: Who Are You Becoming?)
Think about it like this… what if you start a job earning $30,000 a year. You rent an inexpensive apartment and you're pretty frugal with your money.
Over the course of five years you get a few promotions, or change jobs, and now you're making $100,000. Now that your income is higher, you decide to buy a house and you're super excited about being a homeowner.
Do you go ahead and purchase a house? Or do you think "what if I get fired, or laid off, or take a pay cut?" It might be a tiny bit scary, but the odds are those thoughts wouldn't stop you from purchasing a home. You believe you will continue earning $100k or more.
You make a decision based on where you are now, and the future you want to create.
Before you think I am totally against keeping any fat clothes, let's explore the pros and cons of getting rid of them. And I still have a practical compromise for you…
Pros and cons of getting rid of your fat clothes.
There are lots of pros when you dump your fat clothes.
You clear up space in your home.

You help others when you give away or donate old clothes.

You intentionally create an environment for the life you want to live, one for the fit, thin, and active you.

Not having fat clothes to fall back on is incentive to keep the weight off.

You are only keeping clothes for the body you have right now, not living in fear of weight regain.
When you think of how hard you have worked to lose weight, and how proud you are to be at your goal weight (or on your way to goal), does this determined, focus, goal-crushing woman want to be one who has 6 plastic tubs of clothes size 12-22 in her closet??
Ask yourself: "Does keeping my fat clothes support my goals and the life I want to live in the future?"
I hope the answer is "no."
cons to getting rid of fat clothes.
You have an entire wardrobe of clothes should you gain your weight back. You'll also have a lot of mental anguish and, likely, self-hatred too. At least I did when I gained some weight back.
Reality check: Gaining a few pounds isn't a valid reason to save fat clothes (imho).
Let's be practical - we might gain a few pounds after hitting goal weight.
But here's the deal:
you don't gain a dress size (10-15 pounds) overnight

you will notice you are gaining weight by how your clothes fit, even if you never step on the scale

part of living a healthy, happy, active life is regularly evaluating your food, weight, exercise (I use my printable diet and fitness planner.)
I want you to visualize this "falling off the wagon" scenario…
You're at your goal weight and life is good. Your eating is under control, you exercise regularly, and love the way your look and feel. Shopping for clothes is actually fun!
Then the holidays come around and you start a secret affair with Christmas cookies. You know you can enjoy some cookies in moderation, but you'll worry about that tomorrow. Today the sugar cookies with royal icing are calling your name. Oh, and might as well have some eggnog with the cookies because it is Christmas, after all!
You notice the scale creeping up a few pounds, but that's ok. You'll get back on track.
You're really, really enjoying the cookies and, if we're honest, you're indulging a lot lately. So you might as well wait until New Year's to get back on track, right? And that pesky scale… you decide not to weigh until January 1st because you feel a little twinge of guilt every time you see the number lately.
By January 1st, when you resolve to get back on track, you are shocked to see the scale has gone up 9 pounds and your clothes are feeling tight. But you know what to do, and you WILL go back to eating healthy, not snacking on junk food, drinking your water, and exercising.
We all have experienced something like this, right? Maybe it's Christmas, maybe it's a vacation, maybe some "stuff" life threw in your way. And some bad habits came back.
But if and when this happens, will you be HAPPY you have fat clothes you can wear??
Will you just say f*ck it and pull the next size up out of the plastic totes and put them in your closet? Is this a good thing??
When I have had "Christmas over-indulgence issues" like this I was never thankful to have fat clothes to rely on.
I did not like having fat clothes. Having a box of chubby clothes taunted me. They were PROOF I couldn't lose weight permanently. And it felt like absolute crap putting them on again.
tIPS TO KEEP WEIGHT GAIN IN CHECK:
Weigh yourself every week no matter what.

If the scale goes up 3 pounds from your goal weight for more than a few days, take action.

That "action" is whatever you did to lose weight. No juice cleanses or copious amounts of exercise are necessary.
As you know as you know the scale can fluctuate from day to day due to hormones, salt level, activity, and a whole lot of other factors. Usually the fluctuation is due to the body holding onto water, not fat.
But when you see the scale up 3 pounds for more than a few days, just be vigilant. No need to beat yourself up or feel guilty. Just go back to your healthy habits like drinking water, getting enough sleep, moving your body every day, watching your portion sizes, no mindless snacking
A practical compromise for dealing with fat clothes.
By now you've probably figured out how I feel about holding onto fat clothes. I don't think six totes of chubby clothes is a good idea, for many reasons.
But I also understand the fear of regain.
I have a solution. A little compromise when we can't go "all in" on our healthy, beautiful and thin selves.
Keep one box of your favorite fat clothes in one size above your current weight.
If you keep only one box, or one bag, or one drawer of clothes you will have them as a security blanket of sorts. But you're not "betting the farm" on gaining all your weight back. I think it's a perfect compromise.
Here are my guidelines for keeping clothes:
Choose one box or plastic tote or drawer and designate that your "chubby clothes" drawer. (Again, I am using the words I say to myself, and you probably say to yourself, and I'm not making fun of a larger size.)

Don't keep larger clothing in your closet. Your closet should only be clothes that fit you right now.

Choose wisely when selecting the pieces you will keep. Be sure they all work together and are a mini wardrobe if you need them to be. Think a pair of jeans, a few shirts, a jacket, and pair of capris, or whatever is a typical capsule wardrobe for your lifestyle.

Only keep one size above your current weight.

Label the box or container and write the contents in a place you can easily find. (Write where you stored the box and the contents in your planner, or the notes app of your phone or, a in program like Evernote.)

Calendar a date six months in the future. At that time ask yourself if you still need to keep the clothes. If you still don't want to part with them, that's fine. Just calendar a date six months in the future and ask again.
Ways to "get rid" of fat clothes.
Are you ready to get rid of some clothes? Yay! There are four options: throw away, give away, donate, and sell.
Throw away your clothes.
If you have duds you love but need repair or are really worn out, just toss them in the trash.
Give away your clothes.
Do you have a friend who could use some of the clothes that no longer fit you? It's a great option to gift her with clothes.
donate your clothes.
This is what I did with most of my fat clothes. You can donate to Goodwill, Salvation Army or other local thrift stores. Many stores have a drop box or even a donation pick up service. Just google "donation pick up" and the name of your city and you may find organizations willing to pick up your clothes or items you wish to donate.

Sell your clothes.
If you have designer or well-made clothing in excellent condition, selling is an option. You can sell online via eBay, Craigslist or Poshmark. There are lots of sell/trade/exchange Facebook groups. You can sell locally to secondhand boutiques or hold a garage sale.
tips for getting rid of clothes when it feels too hard.
Remember your goals. When you decide to get rid of clothes it's not always easy. Just remember you are creating an environment that aligns with your weight loss and healthy living goals.
Express gratitude for your clothes. I found this tip from Marie Kondo (author of The Life-Changing Magic of Tidying Up: The Japanese Art of Decluttering and Organizing) to be extremely helpful…. Marie suggests holding each piece of clothing before giving it away, thanking it for its service, and saying goodbye. It sounds goofy, but I actually did this with some pieces I found hard to part with. It is basically you expressing gratitude for something so you can release it and allow someone else to enjoy.
Would you buy the same piece today? For clothing that's hard to part with, ask yourself "Would I buy this piece today?" If not, give it away, donate or sell.
If the clothing has sentimental meaning, take a picture. If something doesn't fit and you know you won't wear it again but it pulls at your heartstrings, consider snapping a photo. I did this with a 7 year old, well-worn, massively-oversized obnoxious pink hoodie. Knowing I have the photo made throwing it away that much easier.
Box it up temporarily and calendar a date to donate. Like I mentioned above, put the clothes you want to donate but just can't quite do it yet, in a box, close the lid, and label with a date to give the clothes away. Mark that date on your calendar. When the time comes, put the box in your car and drive to Goodwill (or other thrift store) without looking.
Now it's time for action… do you have some fat clothes you need to deal with? Grab a glass of water (or glass of wine!) and tackle the pile of clothes that no longer serve you. Decide if they have a place in your future or if you will gift or donate to someone else.
Don't forget to PIN this post so you can find this post in the future!
Are you a busy lady (like me) who really, really wants to live a healthy life? I get it because I'm obsessed with living my best life too. Here you'll find simple ideas and strategies to plan a healthy and happy life.
I'm Jacqui, by the way, and I'm the crazy busy lady behind Plan A Healthy Life.
Free printable fitness calendar
Track goals and workouts for an entire month!
Plan meals in a snap with Plan To Eat…
Collect recipes from anywhere, drag-and-drop recipes for speedy meal planning, print shopping list, or access on your phone!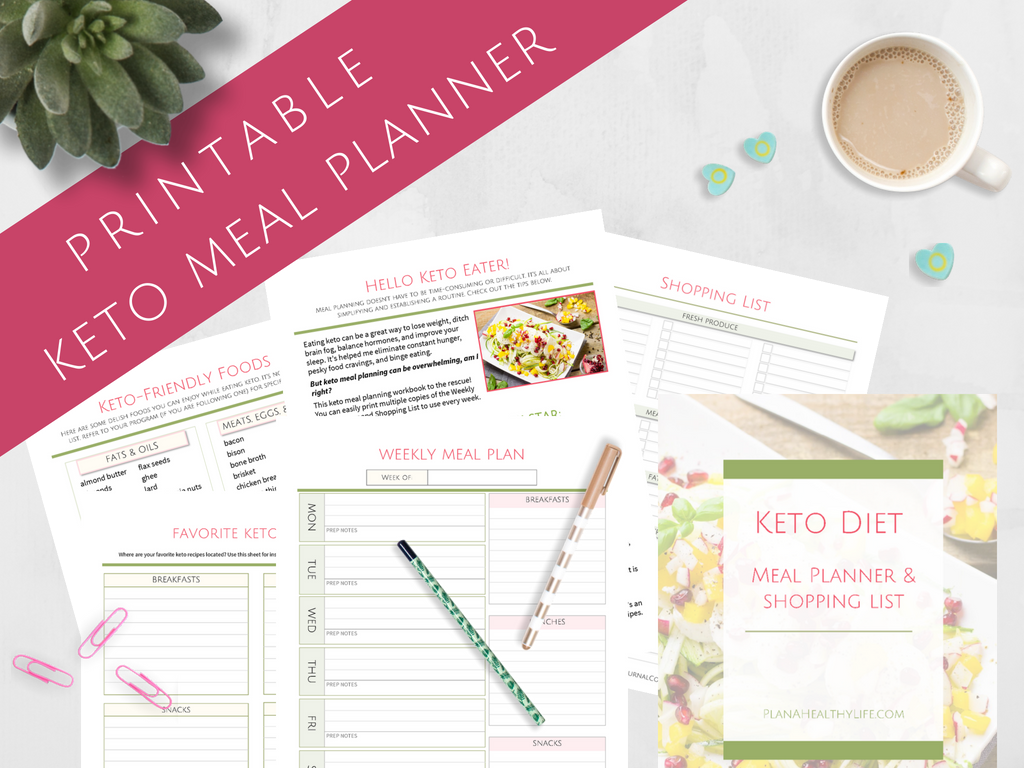 Free printable keto meal planner
Get organized while getting healthy, with printable blank meal planner, shopping list, list of keto-friendly foods, tips, and more!