Review: PiYo Meal Plan Diet for Weight Loss with Printables
Beachbody includes a nutrition plan in every workout program, and PiYo is no exception. Whether you want an amazing transformation or just want to lose those pesky last 10 pounds, will the PiYo Get Lean Eating Plan will help you reach your goals?
I'm here to break the nutrition plan down for you, cut through the hype, answer some common questions, and I'll even give you tips how to tweak the PiYo meal plan and diet for common situations Beachbody did not address.
I also have printable forms to plan your meals and track your food intake so you can get started right away. Cool, huh?
If you don't yet own PiYo, you can grab the complete program on Amazon. (Click here for PiYo's current price on Amazon.)
And, if you are serious about getting results with PiYo, check out this printable PiYo Planner for the ultimate in accountability.
Why the interest? For me it's personal. Having lost 80 pounds of excess "fluff," maintaining my weight loss is critically important to me. Not just to rock a pair of yoga pants, but I choose to eat a (mostly) nutritious diet to fuel my body like an athlete to support my activity, whether it's PiYo, kickboxing or power shopping.
For me, WEIGHT LOSS and GOOD HEALTH are two of the most important factors in evaluating the PiYo eating plan. Oh, and I'm a busy person, as I suspect you are. So SIMPLE and DOABLE FOR REAL PEOPLE are features the PiYo nutrition plan must have for it to be of value to me.
But first, the big question on everyone's mind is: Will I lose weight on the PiYo diet and how much??
The answer is a resounding YES (with some caveats). The PiYo nutrition plan is sound, but it is not effortless (here's a secret – NO diet is effortless), and it is not a miracle. YOU are the one who will determine your success. YOU need to make smart food choices most of the time. YOU need to decide EVERY SINGLE DAY if you will keep moving (however imperfectly) toward your goals or if today is the day you will give up.
Read all about how you will lose weight (and you will!) using the PiYo workouts and food plan: Will I Lose Weight Doing PiYo by Chalene Johnson?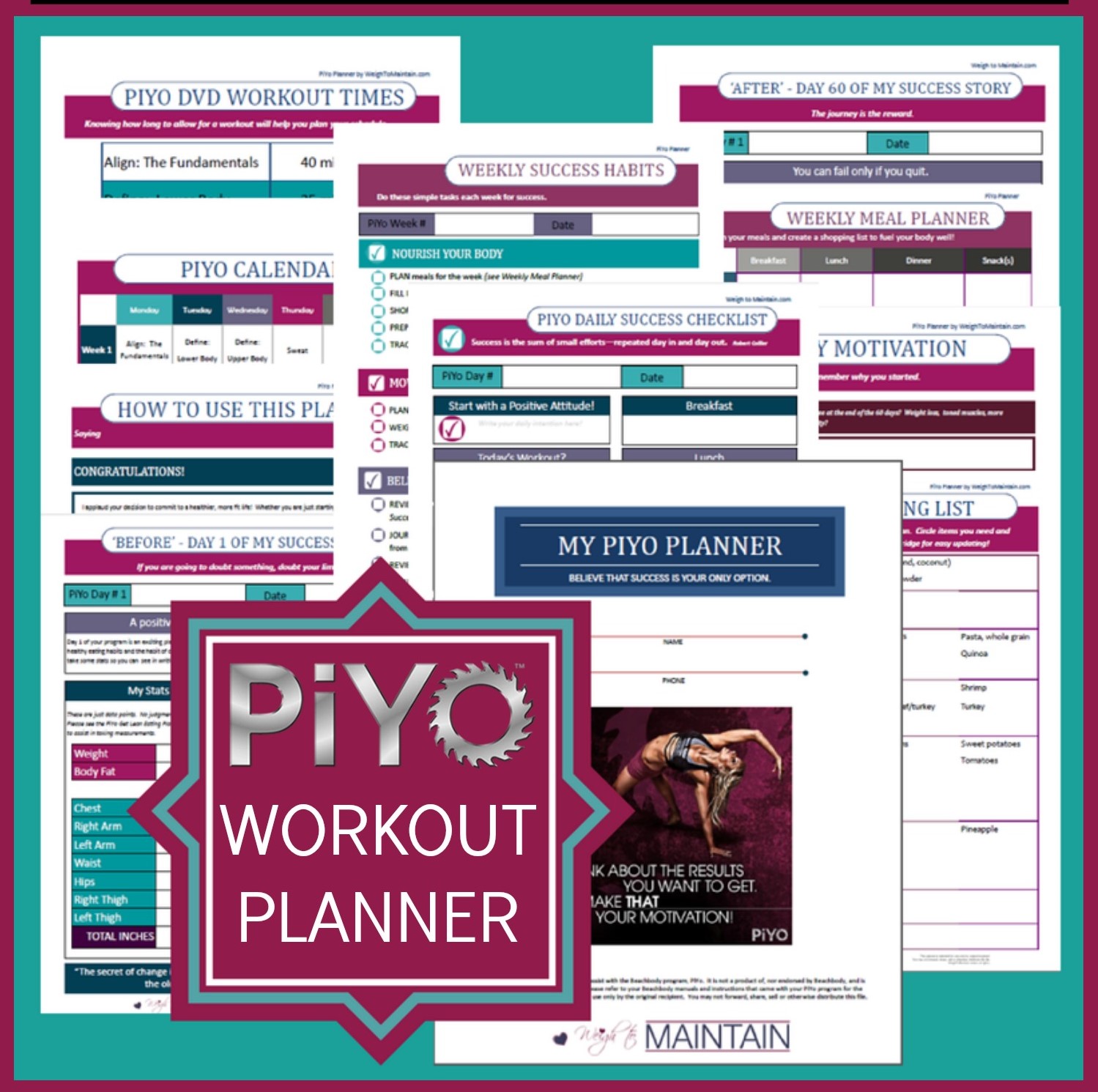 Printable PiYo Workout Journal to plan meals, log food and workouts, and track your progress every day of the PiYo program!
The PiYo Get Lean Eating Plan in a Nutshell
Beachbody claims its goal is to "teach you what your body needs to feel satiated and nourished as you build lean muscle and burn major calories." Sounds good so far. So where do we start? The first step is to calculate exactly how much you should be eating based on your body right now. Here's how:
Step 1: Calculate Your Calorie Target for Weight Loss
Just as in any successful diet plan, you must eat at a deficit to lose weight. That means eating slightly less than your body needs each day, without going so low in calories that you burn muscle tissue for energy or lower your metabolism.
Here is the simple formula – just plug in your numbers. (Please see the official PiYo Get Lean Eating Plan for all details.)
The PiYo eating guide listed two important tips, which I found extremely helpful and realistic:
If your CALORIE TARGET is less than 1200, round up to 1200.

The numbers are approximate so don't stress about hitting an exact calorie amount.
I love that you calculate your own unique calorie needs because obviously a larger woman or a man needs to eat more than a small woman. If your maintenance calories are 3000 per day and you cut back to 1200, you are essentially starving. A 600 calorie deficit is pretty significant (you will lose approximately 1-1/2 pounds of fat per week), but not extreme. Go Beachbody!
Step 2: Pick the Food Plan that Matches Your Calorie Target
Beachbody has four different plans, based on the calorie target you calculated. Plan A is the lowest number of calories (1200 to 1399) and Plan D has the highest (1800 calories or more).
The PiYo Get Lean Eating Plan is well-balanced and does not restrict the carbs your body needs to fuel energetic workouts. The macro ratio is 40% carbs, 35% protein and 25% fat.
Step 3: Choose the Foods YOU Want to Eat From the Food Lists
Now we get to eat! You are given a list of healthy, wholesome, "real" foods to choose from. At the same time, you have the flexibility to eat what YOU want. Have you ever tried following someone else's diet plan with pre-written menus? It can be challenging for those of us who are dietary free spirits. The PiYo Get Lean Eating Plan gives you FREEDOM. Freedom means less chance to rebel right into a tub of Ben & Jerry's Chunky Monkey ice cream!
You are provided lists of food choices for each of the different food types which are:
Primary veggies (leafy greens and low calorie veggies)

Secondary veggies and grains (starches like potatoes, rice, oatmeal, tortillas, quinoa, etc.)

Fresh fruit

Lean protein

Healthy fats (avocado, nuts, seeds, coconut, cheese)

Free foods (don't get too excited – we're talking herbs, seasonings and unsweetened coffee)
The food lists show you exactly how much of a food equals a portion so there is no calorie counting or guesswork involved. Most of the portions are sized using measuring cups and spoons, but a few list amounts in ounces. A simple food scale will take care of this.
I love that calorie estimates are listed for all of the food types, such as approximately 140 calories per serving of lean protein. This helps make the plan flexible when choosing foods which are NOT on the Beachbody list.
It's time to plan meals and track your food.
The PiYo meal plan gives you one sample day of menus, so you are really on your own to come up with meal plans for the week. This is both a plus and a minus in my book. I like planning my meals because I choose foods that taste good, that fill me up, and that satisfy me. I'm a veteran dieter (I wish I couldn't claim that title!) so I can plan meals in a snap.
However, someone new to clean eating or meal planning might need a little help. There are some people who actually WANT to be told what to eat. I can't relate at all, but these people do exist, just like the M&M guys and Santa Claus. Maybe you are even one of them?
So if you're a meal planning newbie, now is the time to learn. If you need help, see Meal Planning So Simple Even a Gym Bro Can Do It.
Here is a simple checklist to track your foods each day Just fill in your meals and cross off the checkboxes!
PiYo Diet FAQ's:
Is this diet healthy?
Yes. Follow the plan and you will have adequate amounts of protein, fats and carbs. You will eat a wide variety of fruits and veggies to fuel your body with the nutrients it needs to build muscle and burn fat.
My only caution would be if you are a very active person or are training for something in addition to doing your PiYo workouts, such as a 5k or half marathon. If so, you may need to bump up the calories. Pay attention to how your body feels. Do you have enough energy? Does the amount of food satisfy you? Be smart and EAT MORE if you need to.
Is the diet realistic for busy people?
I would say yes. The PiYo eating plan does require a little thought, planning and preparation, but so does any healthy eating program. Spending an hour planning your meals and grocery shopping for the week is a worthwhile investment in your health.
Is the diet based on real foods I can easily find at the grocery store?
Absolutely!
Is the diet easy to track? Do I have to count calories?
Yes and no. Tracking the various foods you eat in a day is as easy as crossing an item off a list or checking a box. Print off my simple PiYo Eating Plan Checklist.
However, there is no provision for foods not on the list or for eating out in restaurants. See my simple work-around below…
How do I eat at restaurants and how do I include foods that are not on the list?
One weakness is that Beachbody did not address dining out or combination foods. However, there are two ways to tackle these situations.
Dining out at a restaurant with "real food" options.
If your restaurant features items like fish, chicken, beef, grains and veggies, then I would just cut my large, restaurant=sized portions in half and track the items as normal. While you don't have to go hog wild at the dessert buffet, you also don't have to be overly restrictive. Food is meant to be enjoyed after all. Eat small amounts of the foods you love, track as best you can, and enjoy!
Example: Outback Steakhouse.Let's assume I'm in the mood for a steak and order an 8-ounce Victoria's filet, baked sweet potato (skip the honey butter and brown sugar) and a salad with dressing on the side.
Cut the steak in half and eat a 4 ounce portion which has approximately 150 calories. I'd just count it as 1 protein and the walk from the car into the restaurant burned the extra 10 calories.

The sweet potatoes are huge. I'd cut it in half, eat one portion and count as 2 grain servings

I'd personally ditch the salad croutons (I eat gluten-free) so I would just count the salad as a few servings of veggies, and perhaps 1-2 fat servings if I use a little dressing.
Dining out with "mixed foods" or other combination/processed foods.
Tracking a slice of pizza on the PiYo diet plan would be a nightmare. So would accounting for other combination foods like my all-time favorite breakfast, a Quest protein bar. Here's my best solution: Determine the calories of your food item and cross off enough servings to equal that amount of calories.
Example: Processed Food – White Chocolate Raspberry Quest Protein Bar.
I eat a Quest Bar for breakfast almost every single day so including a protein bar in any food plan is a non-negotiable. Obviously Quest bars aren't on the PiYo food list. Here's how to track:
Determine calories. There are 190 calories in this bar. It has 20 grams of protein (a significant source), 23 grams of carbs (most of which are fiber), and 8 grams fat.

Cross off servings to equal 190 calories.To make the process totally simple, you can arbitrarily cross off servings until you hit 190 calories. However, if you think about what makes up your food item (like my Quest bar) it makes more sense. The Quest bar is largely protein so I'll count it is 1 protein. That's 140 calories and leaves 50 more. I'll count the remaining 50 as 1 fat since the carb calories are mainly (non-caloric) fiber. Again, I have been counting calories and dieting my whole life. If this is too complicated, just cross off any portions until you reach 190 calories.
If you are tracking a processed food, it will have a nutrition label with the calories listed. If it is a restaurant item, often a restaurant's website will have nutrition information. If not, just google that particular item and estimate based on your findings. (My favorite local pizza place doesn't have nutrition info, but I can choose to use data from Papa John's or Pizza Hut.)
Update February 2019: I no longer eat Quest bars daily. In fact I rarely eat Quest bars at all. I have moved to more of a whole foods, low carb approach. You can read about my 12 week keto adventure HERE.
Does the diet tell me what to eat or can I make up my own meal plans to suit my personal tastes?
You're totally on your own here. You have a list of foods, but you must plan your own meals and snacks. There is no guidance other than one sample day.
Can I tailor the PiYo meal plan to my specific food needs, such as gluten-free or vegan?
Yes.
Are the portions large enough to satisfy me?
That's debatable. If I'm eating at a 600 calorie per day deficit I personally will be hungry. That's because you are not eating enough to fuel your body which is a necessary evil. If you don't run a deficit you can't lose weight.
I would suggest trying your suggested calorie amount for a few days and see what you think. Possibly bump up the calories if you are ravenously hungry.
Will this diet teach me about nutrition and how to plan healthy meals for a lifetime?
Exchange systems like this have been around forever. Becoming familiar with the food lists will show you a variety of healthy, nutritious foods and you can experiment with combining them in a way to fuel your body.
The PiYo eating guide has no real system for planning meals, though. See Meal Planning So Simple Even a Gym Bro Can Do It for more guidance and printable worksheets to help you.
My conclusion?
The PiYo Get Lean Eating Guide is a simple, well-balanced guide to healthy eating.
The PiYo meal plan is sound nutrition. Follow the easy-to-follow guidelines and you will lose weight, while nourishing you muscles with essential vitamins, minerals, proteins and healthy fats. It is not overly-restrictive and uses foods you can easily find at your local grocery store. I'd say it's a winner!
Be sure to PIN this post so you can find it in the future!